Masezza.com – Whether you are looking for ideas for a new bathroom remodel or you just want to find inspiration for a DIY bathroom makeover, these farmhouse bathroom makeover ideas can help you create a beautiful space.
Adding Shiplap to the Bathroom
Adding shiplap to your bathroom is a great way to add warmth and character to the space. A white shiplap wall is a simple yet elegant way to brighten the space. The contrast between the white wall and tile flooring creates a timeless look. The white shiplap wall is also a great way to accentuate your freestanding bathtub. It complements the white tile floor and gives the bathroom a classic rustic feel.
The bathroom is anchored by a black gyroscope chandelier. The wooden shelves above the toilet are decorated with potted plants. The recessed-panel cabinets provide a country vibe and add storage. The white and gray tile arched shower curtain is fitted into the white vertical shiplap bathroom wall. The vanity features a white square sink and is accessorized by a plush floor mat.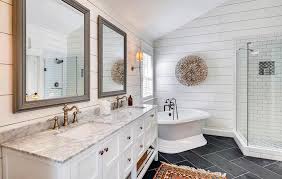 Adding open shelving in a farmhouse bathroom is a great way to organize and display your favorite bathroom items. You can find open shelving in many different materials. There are wood, marble, and even metal shelves. These shelves can be mounted on the wall, or freestanding floor to ceiling units.
Ways to Display Decorative Items
The best open shelving is functional, but does not take up too much space. You can use them to display your favorite bathroom items, as well as kitchen gadgets and cooking utensils. You can also add a little point of interest by adding a small plant or fake plant. Open shelving is also a great way to display decorative items. Some people add decorative containers to their shelves to hold items such as cotton balls, bath oil beads, and bath oil.
Using wood tiles planks in your bathroom is a popular way to get the look of a farmhouse bathroom. They are available in a variety of colors and patterns. You can choose to use them on the floor or the walls. They will add a touch of warmth to your bathroom. Wood tiles planks are available in a variety of shapes and sizes. You can use them to create a traditional look or a more contemporary one. They are also used as accents around the tub or the sink area. They add a touch of warmth to your bathroom and add an attractive edge.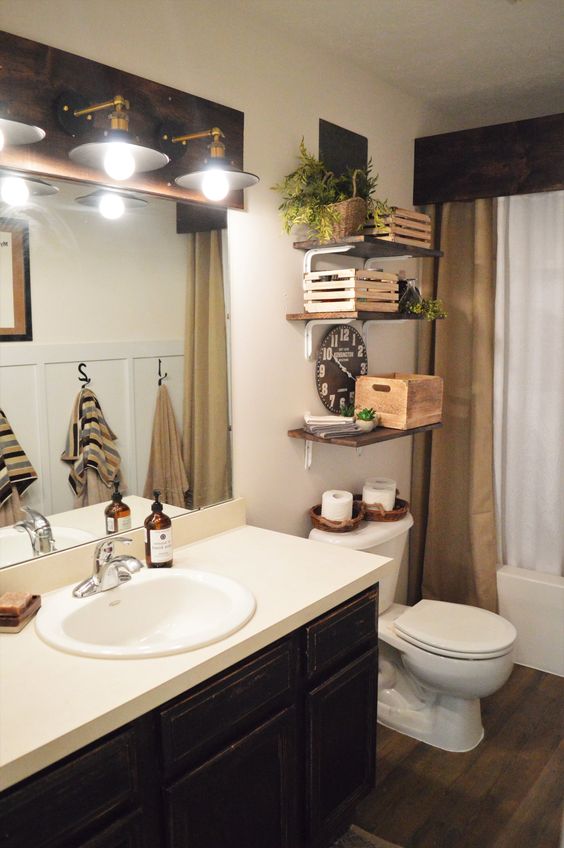 Wood look tiles have become popular for their realistic look and ability to replicate natural hardwood. This trend can be applied to ceramic or porcelain tiles. They come in a variety of colors, styles, and patterns. Whether you're looking to revamp your bathroom or create a whole new look, there are many types of flooring that can make your home feel like a rustic farmhouse. Vinyl is an inexpensive way to upgrade your floors.
Adding Farmhouse Character To The Bathroom
Adding a touch of farmhouse decor to your bathroom is an easy way to add character and a unique flair to your bathroom. From painted wooden cabinets to vintage-style faucets and a rustic wooden crate, you'll have plenty of ideas to get started. A rustic wooden caddy is a perfect way to provide a reading nook in your bathroom. It also provides an ideal place to display your collection of antique vases and decorative bottles.
Using farmhouse bathroom vanity lighting is a great way to add more light to a bathroom. It is also a good idea to keep in mind that the color scheme of your room should complement the lighting. You might even consider a combination of modern and rustic furnishings. You can find a variety of modern farmhouse bathroom vanity lighting on the market.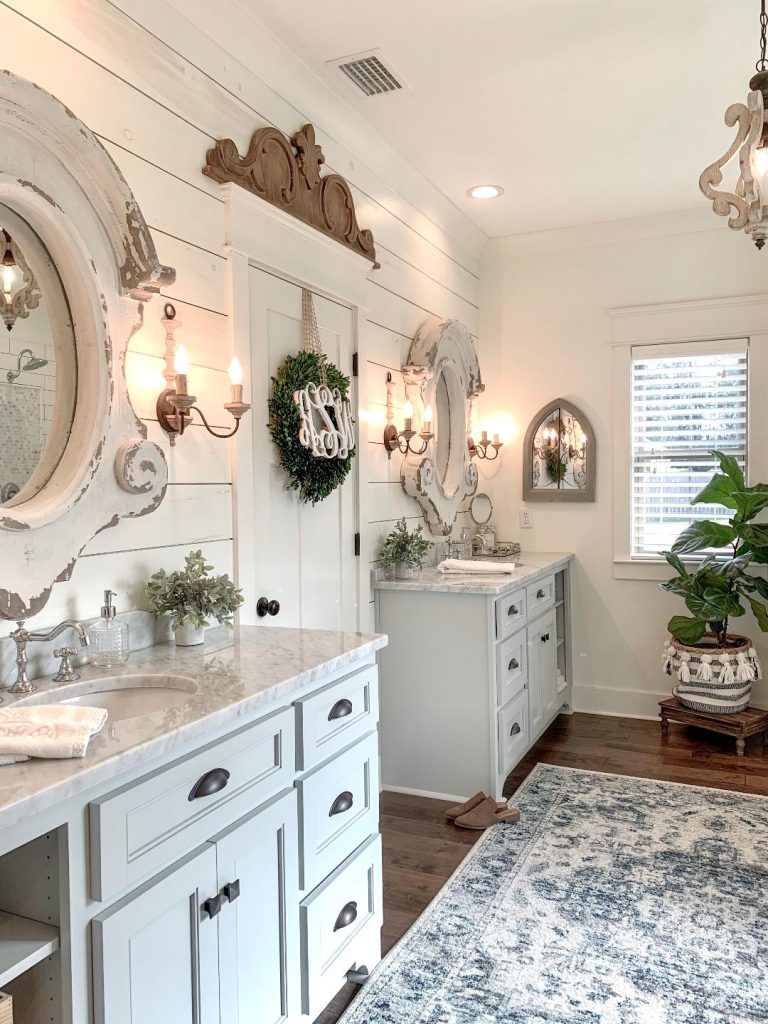 The best part of using farmhouse bathroom vanity lighting is that it can be customized according to your specific tastes. If you are going for a rustic theme, consider using rustic wood floors and a floating wood shelf to achieve the rustic feel. A modern farmhouse bathroom makeover could also entail using rustic industrial bathroom lighting. It's a good idea to consider what type of fixtures you want to use before you start the renovation process.