Masezza.com – Choosing a monochrome kitchen is a great way to make your space feel sleek, elegant, and modern. With the right choice of colors, this design can look amazing no matter what type of house you're in.
Using a Monochrome Color Scheme
If you're going for a monochrome color scheme, try to keep the contrast as light as possible. This will create a space that's open and airy. When it comes to home style, few trends are as timeless as white cabinets. These neutral, pristine cabinets are easy to dress up with hardware or decorative details for a look that suits your unique personality and style.
White cabinets work well in both modern and traditional kitchens, but can also be used to add a touch of glam or a farmhouse vibe to a space. Full-overlay cabinetry, with doors that wrap completely around the frame, works beautifully in sleek, contemporary spaces. Another way to break up a monochrome kitchen is to use contrasting colors on the floor. In this example, a zig-zag pattern in the floor tile acts as a natural anchor for the white kitchen cabinets.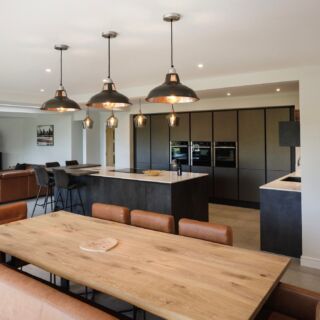 White cabinets make a small kitchen appear larger, especially when they're painted a light neutral like ivory or cream. But, keep in mind that stark white can make a room feel dark and dingy if the lighting isn't right. A black kitchen countertop is a classic choice that always looks good, and goes with almost any color scheme. They're also hard to stain, which makes them more durable than other colors.
Creates the Perfect Look for a Room
You can choose from a wide variety of materials and finishes for your counters, but one that is most popular is quartz. They're available in many different shades and can be honed to create the perfect look for your space. Besides, quartz countertops are super long-lasting, so you don't need to worry about replacing them as often as you would with other materials.
This sleek black kitchen is a modern design that features flat-panel cabinets and a waterfall stone countertop. The dark worktops complement the light wood flooring and reflect the bright white walls, creating a striking contrast that's incredibly stylish. A black backsplash can be a bold yet elegant choice in a small monochrome kitchen. It can help balance the warm wood tones of the cabinets and create a cohesive design.
Black subway tiles are a popular choice for a black backsplash because they are versatile and work with a wide range of kitchen styles and looks. They are also easy to keep clean and hide marks better than lighter options. Alternatively, you could choose matte ceramic tile for a more subtle finish that doesn't overpower the monochrome palette. A contrasting herringbone pattern works well for a luxurious look, too.
Have a More Friendly Small Monochrome Kitchen
To create a cohesive look, consider creating a backsplash that runs from the ceiling to the countertop. This is especially helpful if your sink and stove are located on different walls. If you have a small monochrome kitchen, you can still get the look you want by adding a white island. It'll make the space feel more welcoming and add a touch of color to your room.
In this design, the island is painted in Farrow & Ball (opens in new tab)'s Strong White to complement the stainless steel countertops and quartzite backsplash. The pale off-white paint also allows the stained glass windows and millwork to stand out against it, giving this kitchen a fresh, contemporary feel. If you want to give your kitchen a more classic farmhouse look, try painting your kitchen island in a light shade like white oak. This will keep it in line with the rest of your kitchen small monochrome kitchen while adding a touch of rustic charm.