Masezza.com – A Modern Farmhouse Dining Room is a charming space that features a mixture of modern and rustic elements. Its rustic elements are accented with contemporary details, such as exposed wood beams. It also incorporates natural elements, including warm white paint. The following tips help you create this look: Make sure to choose simple light fixtures.
Farmhouse Dining Room with Natural Light
A modern farmhouse dining room should be light and airy. It should allow for natural sunlight to flood the room. Avoid heavy curtains, and try not to clutter it with unnecessary objects. Avoid using a large number of accents, such as colorful wall art. Keeping it simple will help you create a welcoming environment that everyone will appreciate.
A modern farmhouse dining room should not look too formal or overdone. It should be comfortable for family meals. If you want a more contemporary atmosphere, you can incorporate bold designs with soft colors. Alternatively, you can opt for a more neutral, classic color scheme. You can also incorporate some vintage pieces in your room. In either case, you should use natural materials. These will ground the look and add some personality to it.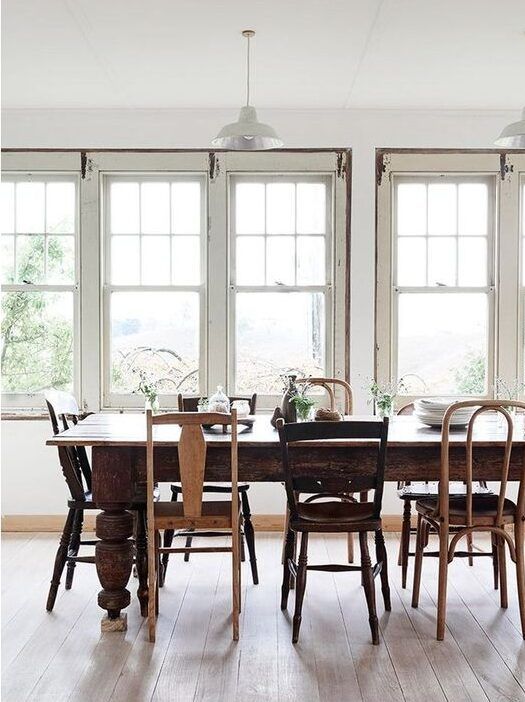 In addition to farmhouse-inspired furniture, you can also try mixing modern and traditional accessories. You can use mismatched chairs to add an informal chic to the space. For example, a dining hutch may look best with modern chairs and a modern table. A chandelier may also be appropriate to complete the look.
Important Features in the Farmhouse Dining Room
A dining bench is also an important feature in a modern farmhouse dining room. The benches can be cushioned or uncushioned. While most adults would not want to sit for long, they are a great option for families with kids. Moreover, the benches also help in keeping the room tidy.
An upholstered chair can also add some fun to the decor. It blends color and texture an allows you to be creative with your color choices. Similarly, a leather chair can work well with wood elements in the room. Alternatively, you can match the shade of the leather chair with other shades in the room.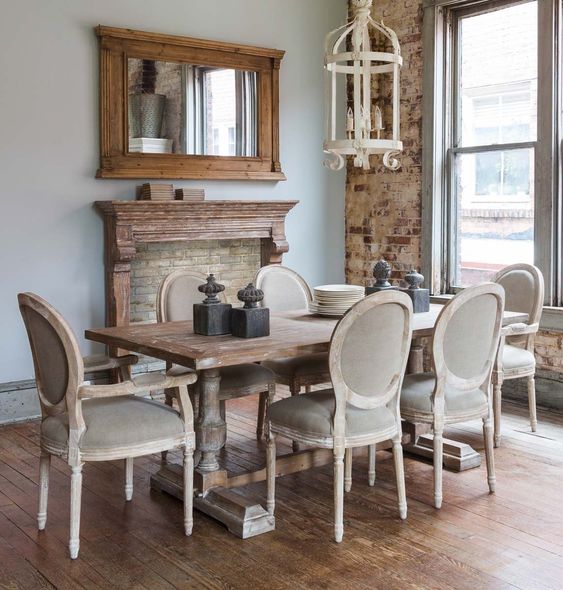 The Blox dining table is another option for a Modern Farmhouse dining room. Its sharp lines and wide legs make it an ideal choice for a large family. It can seat up to 10 people comfortably. This table is available in natural wood or darker espresso finishes, so you can choose the right option for your dining room.
Tips for Adding Pillows to the Chair for More Comfort
A modern farmhouse dining room is best completed with a light, airy look. The colors and fabrics should be warm and inviting. The dining chairs should be comfortable. You can add pillows on the seats for added comfort. Also, try using overhead lighting. And don't forget to include some fresh fruit.
The classic farmhouse dining table is another key feature of a modern farmhouse dining room. Despite its classic appearance, these dining rooms also incorporate eclectic chairs, wood paneling, and something green. While this style is generally associated with country homes, it can work in urban settings too. Incorporating a few key pieces of furniture and accessories in this room will transform its overall look. A modern farmhouse dining room is a great choice if you want to bring the country vibe into your home.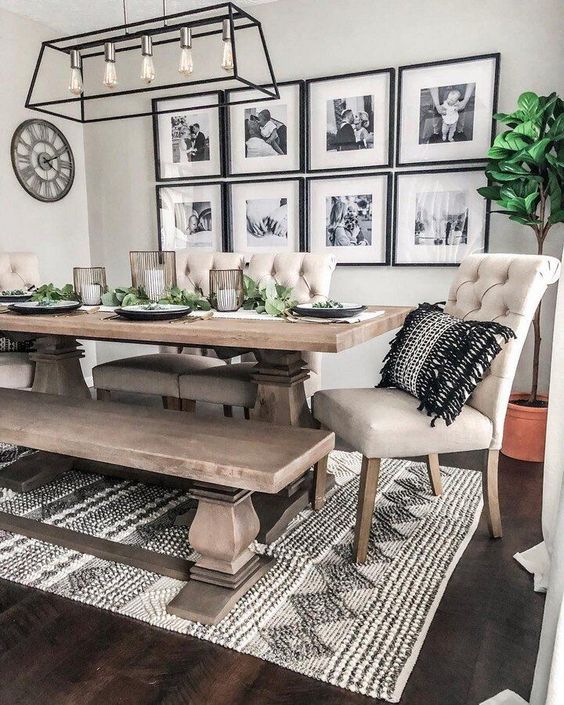 The farmhouse style is not for everyone. If you're looking for a more minimalist look, this dining room might not be the right choice. The farmhouse look is a fusion of country style and minimalist design. It is fresh, welcoming, and emphasizes a relaxed atmosphere. The farmhouse style is the antithesis of a fast-paced, hectic society.