Masezza.com – Unique Bathroom Lighting can take a utilitarian space and make it feel like your very own. From a central ceiling fixture to vanity lights, there are a multitude of ways to add some personality and make it feel special.
Adds a Touch of Luxurious Glamor to Bathroom Settings
For example, this 1-light sconce from Hubbardton Forge features thick glass shades with a classic handmade appearance for a gaze-grabbing apothecary vibe. Its sleek backplate and brushed nickel finish complement any traditional or contemporary decor. Chandeliers can add a touch of luxe glamor to a bathroom setting. They're great accent fixtures because they fit with your primary lighting fixture choices and also offer multiple bulb options.
Chandelier designs can vary greatly and some styles are influenced by specific time periods or design aesthetics. For example, Louis Philippe-style chandeliers were a late expression of neoclassicism and were often characterized by heavier forms and motifs based on classical designs. Sputnik chandeliers are a subset of chandeliers defined by a space-age design aesthetic that is loosely based on the iconic shape of the Sputnik satellite. These designs tend to have spherical shapes and spires that extend from the center of the fixture, ending in halogen or LED bulbs.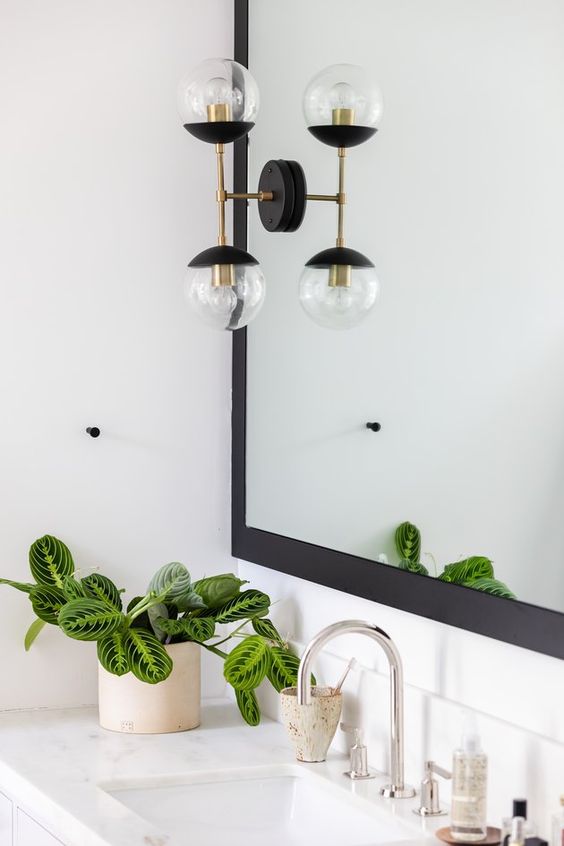 A framed artwork or playful limerick can give your bathroom personality, but installing a unique light fixture is a great way to really liven up your space. These creative bathroom ideas don't require any major construction work and will keep your home's electrical system safe from faulty wiring or other hazards. Sconces add decorative flair to a bathroom while providing functional lighting. They come in a variety of styles and finishes to complement your home's design and can be mixed with overhead or pendant fixtures to create a layered lighting design.
Lights Up a Room while Adding a Little Visual Interest
Sconces that direct light downward create ambient lighting for a room while those with transparent or frosted shades offer more focused task lighting, ideal for vanity areas or over mirrors. Sullivan wall sconces from Hubbardton Forge are the perfect example of this type of versatile fixture, with their slender frames that blend in easily and cone-shaped shades that allow just enough light to illuminate a space while adding minimal visual interest.
Lantern-style sconces are the perfect addition to a rustic or farmhouse-style bathroom, while those with flat faces and sleek chrome finishes can energize modern spaces. Choose sconces that use a finish that's also used throughout your other bathroom fixtures to help them integrate seamlessly with your overall lighting design.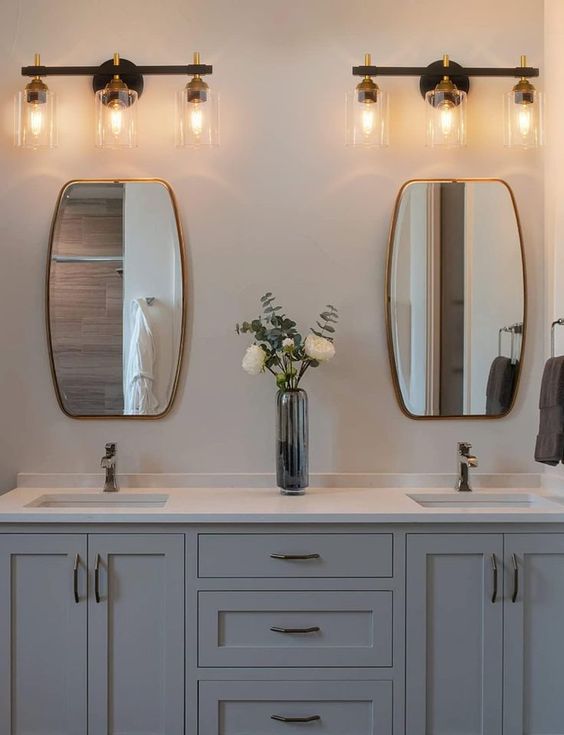 Dimmer switches are one of the easiest upgrades to a bathroom that can help save energy, reduce bulb life, and create a mood. These switches use pulse width modulation to regulate the amount of power to a light fixture, allowing you to control brightness levels in an easy way. There are many different types of dimmer switches that work with a variety of different light fixtures. Some have a dial or slider to adjust illumination levels, while others are similar to a traditional light switch with an integrated on/off function. Some even offer toggle and rocker options.
Design Elements that Bring Unique Personality to a Room
For more advanced home automation, consider adding a smart dimmer switch that can be controlled by voice commands with Google Assistant or Amazon Alexa. This white switch includes intelligent dimming technology, soft start, and overload protection to ensure a safe operation. It features trailing edge dimming and three programmable modes to adapt to different LED types. The switch also comes in several finish options, including polished chrome, satin chrome, antique brass, and bronze.
Lighting is more than just a functional part of your bathroom. It can also be a design element that brings a unique personality to the space. With a few simple changes, your bathroom can feel like a retreat. For bathrooms with low ceiling heights, installing large pendant lights or sconces can be impractical. A solution is to install flush mount lights instead. These are smaller fixtures that look more like spot or recessed lighting but cost-effectively add balanced lighting to the room.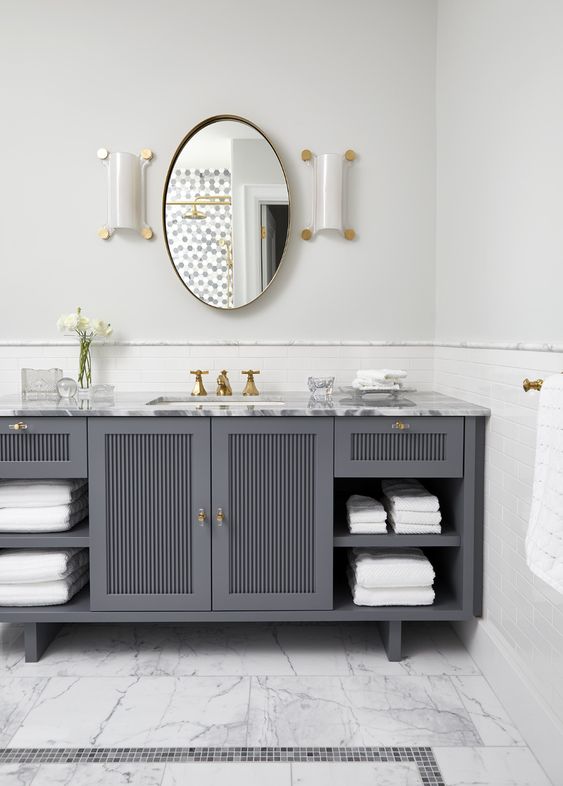 A fun way to use flush mount lights is to frame a mirror with them. This will give the mirror a floating effect and make it feel more spacious. You can also use a picture light in the shower to brighten the niches where you keep shampoo, soap, and other bath products. Some picture lights have RGB chips bringing multi-colors to your showering experience.