Masezza.com – Fun patterns are a signature of midcentury modern decor, and the bathroom is the perfect place to go bold. For example, the oversized polka dots in this bathroom were achieved with handpainted tile from Fireclay.
White is a Classic Choice for Bathrooms
You can also introduce patterned tiles through the backsplash, like these hexite tiles that create clean lines and a symmetrical pattern. Or, opt for a textured look like this terrazzo-look porcelain. While white is a classic choice for a bathroom, it's also easy to make a bold statement with the right patterned tile. In this midcentury modern bathroom, a funky floor design pairs well with a traditional vanity and wooden furniture. Add a modern lamp and cool frame for the mirror to make it look more sophisticated.
A bathroom with natural stone can instantly lend a midcentury vibe, especially if you select a material like travertine or terrazzo. This minimalist space features a wood vanity and tessellating terrazzo tile that evokes the era perfectly. Earth colors were a popular option for midcentury bathroom designs, so you can easily make a modern update with paint or flooring. Jess from The Styled Domicile chose a calming avocado green for this space that also features a modern blue accent wall and brass fixtures. If a new floor isn't in the budget, peel-and-stick tiles offer a quick and easy solution.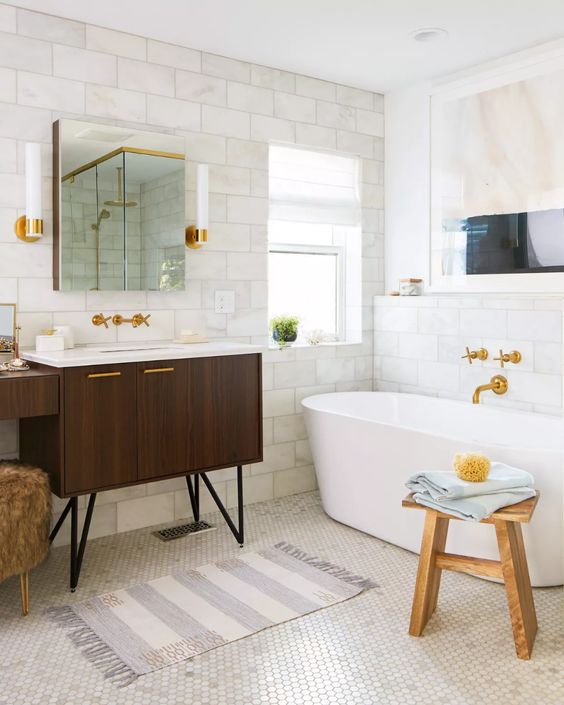 A bathroom with a blue color scheme can be more fun than neutrals and still fit the mid-century modern style. Look for textured tiles and warm finishes. You can find a variety of styles from subway tile to penny tiles, but be sure that your bathroom looks balanced and not too busy. For a bolder style, consider using kelly green or mustard yellow. These colors were popular in the '50s and '60s and still feel fresh today. You can also experiment with pastel shades, such as the baby blue used in this crisp bathroom by Amber Lewis. The muted shade complements the wood vanity and other natural elements of the room.
A Subtler Mid-Century Modern Twist
If you're looking for a subtler touch of mid-century modern, incorporate brass finishes into your bathroom. You can opt for simple, straight lines or try a more sculptural design like the brass sputnik chandelier seen in this bathroom by Bright Design Lab. Brass is a classic, and the light fixture also ties in with the golden metallic finishes used in other fixtures and hardware throughout the bathroom. When it comes to a bathroom that leans toward midcentury modern, marble is a classic choice. Use a neutral shade like beige or white to keep the space feeling fresh and clean, or experiment with a more colorful palette. For example, Jessica Nelson Design used soothing green shower tiles and a honey-toned wood sink vanity to create a bathroom that is both elegant and relaxed.
Straight lines get a lot of attention in this style, but rounded elements also play a role. For a midcentury modern bathroom, look for tile with shapes that mimic the curves of your body, such as this pale blue scalloped pattern by RailiCA Design. Its rounded lines complement the shape of the shower, mirror frame, and brass vanity pulls. Another option is to incorporate earth colors, which were popular in the '50s and '60s. This bathroom by Mod Craft mixes Hudson dimensional tile in beige and yellow to create a tranquil bathroom. The earthy shades feel reminiscent of the era, but the restrained room décor and sleek storage keep the space from feeling kitschy or dated.
Creating a Bathroom with a Strong Mid-Century Feel
If you want to create a bathroom with a strong mid-century vibe, a bold hue is an easy must. The avocado green walls in this bathroom by Jess from The Styled Domicile work perfectly with the groovy marble pattern on the vanity cabinet and brass fixtures, hardware, and lighting. If a bold color feels too risky, go subtle with a neutral shade like white that creates a clean look. Use wood furniture to add warmth and keep the space from feeling too clinical.
Tile can also be a great way to incorporate mid-century modern characteristics into your bathroom. Try tiles with a textured look that play up the geometric shapes linked to this design style. Grid or kitkat tile are ideal, but other repetitive patterns like hexagons or penny rounds can work too. When it comes to the vanity area, a three-light wall fixture with etched opal glass is classic and timeless. Its sleek design and warm, ambient light complement the rest of the room beautifully.