Mesezza.com – If you want to create a bedroom with a Mediterranean theme, there are some key elements you must incorporate. Light is crucial. To achieve a natural feeling, remove or replace heavy curtains with see-through curtains. If you are unable to remove all the heavy curtains, you can hang see-through ones on select windows. This will allow you to enjoy the light throughout the day and night. Then, add wrought iron light fixtures, rich textiles, and potted plants to make the room feel more authentic.
A Good Way to Get a Mediterranean Style Into the Bedroom
Light colors like blue, green, and yellow bring a Mediterranean-inspired bedroom into focus. You can choose these colors at the paint store or paint the walls yourself. If you prefer bright colors, use them as accents to add hints of passion. The options for bedroom decorating are endless, but you should always start with the furnishings. A good way to incorporate a Mediterranean style into your bedroom is by choosing furniture that reflects the color of the sea.
If you're unsure of which style to choose, you can mix and match different regional styles. For instance, you can incorporate Italian influence with luxurious furnishings and dark wooden flooring. Or, you can incorporate a Spanish influence by incorporating stucco walls and furniture. Either way, color is essential as it ties the different decor elements together. A well-chosen color scheme creates harmony in the room.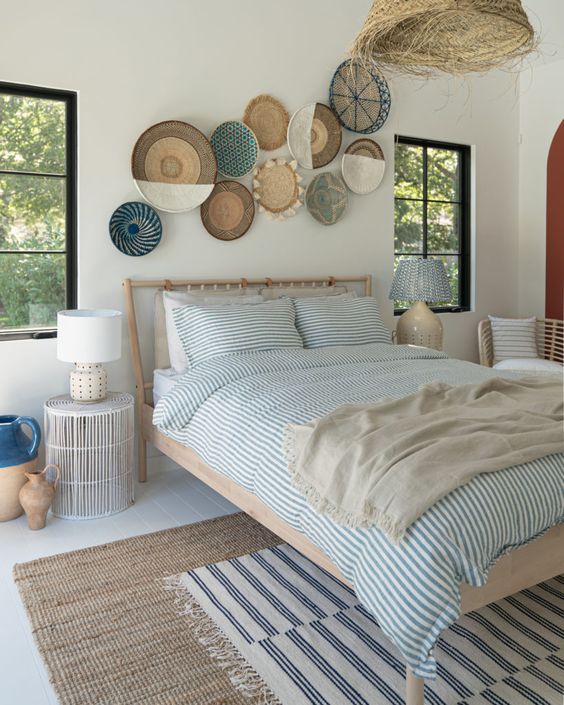 If you're unsure about the color combination to use, try blue and yellow. Those two colors go together beautifully, and can easily make your bedroom seem like a postcard. If you're planning on incorporating a Mediterranean style into your home, you must invest in elegant hardwood flooring. Choose one with a cherry finish, and polished hardwood floors add a refined touch. You can also use lighter blue ceilings to create a more tropical beach feel.
Complementing the Beauty of Mediterranean Style Into the Bedroom
If you'd like to add a Mediterranean style to your bedroom, consider using multiple-colored bedding. If possible, use a variety of complementary colors, such as blue and white, or mix contrasting shades of the same color. You can also incorporate green elements like potted plants and pretty vines. Tall ornamental plants will accentuate the beauty of the room. And, if you're lucky enough to have a seaside room, make sure it has wall-to-wall windows.
A Mediterranean-style bedroom can look simply stunning with exposed wooden beams, hardwood flooring, and a white bed frame. A wood-framed wrought iron bed encloses a tufted headboard and matching bedside tables. A patterned mirror between shuttered windows makes for a unique piece of art in the room. A patterned mirror, meanwhile, illuminates the bed's alcove. Finally, a tufted brown leather sleigh bed with a white cushioned panel behind it is accentuated with mirrored bearing table lamps.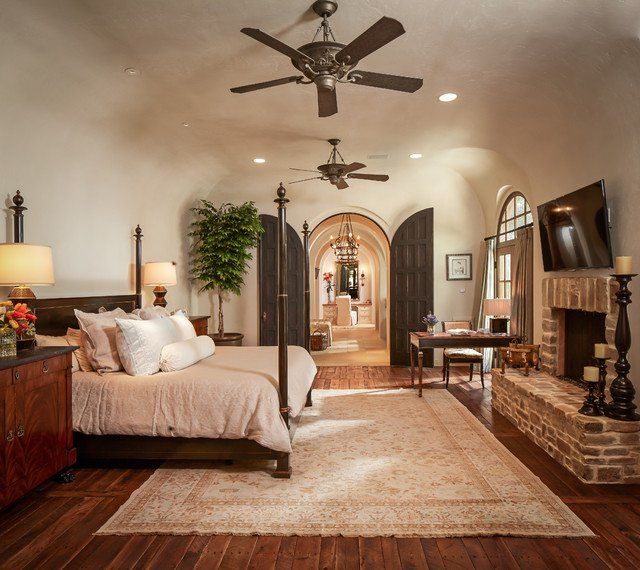 The main bedroom of a Mediterranean-style home is an upscale contemporary room with an updated Mediterranean design. The white walls and cream-colored furniture pair well with the dark wood floors and natural wood furnishings. The soft cream-colored furnishings and bedding add a sense of airiness and calm. And the soothing textures are reminiscent of a beach cottage. You can find many other elements that reflect the Mediterranean style in a bedroom.
Tips for Giving the Room a Mediterranean Feel
For an extra earthy feel, you can use terracotta. Terracotta is reddish clay, which will give your room a Mediterranean feel. Terracotta floor tiles are a common choice, but you can also use it in subtle ways like Moroccan rugs. And if you're a big fan of art, you can also add artwork and a Moroccan-style rug to complete the room.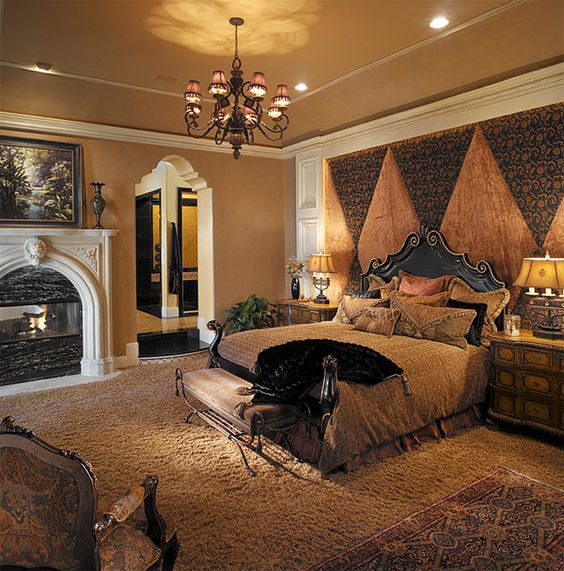 The bed itself is the focal point of the room. The four-poster bed, paired with a white armchair and a skirted ottoman, creates a classic ambiance. The room is accentuated by a wood beam ceiling and a lush green garden. The furniture is classy and comfortable. A velvet bed is paired with wooden nightstands with beveled mirrors. The arched stone wall adds a touch of texture. A white sofa and chaise lounge complement the skirted bed and add color to the space. A wrought iron chandelier and a classy valance complete the look.